Fixing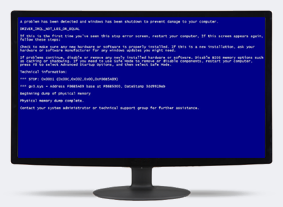 With over 30 years of computer repair experience, we are still amazed at all the different ways computers can break.
Most commonly we repair computers that are no longer usable. Blue screen errors, broken laptop screens, freezing, sudden shutdowns and so on. The next most common problem that our clients ask us to repair is virus infections and computers that have been overrun with ads, toolbars, popups. These are very serious problems and we have a lot of experience making sure that the computers are completely clean when we are done repairing them. We also inform our clients what actions to take with resetting passwords that may have been compromised and 'safe use' instructions to help prevent reinfection. The vast majority of repairs that we do for clients do not require new parts.
Our Services
Difficult and unusual cases are our specialty.
Testimonial
I was told by another repair shop that my motherboard needed to replace. When that did not work, they erased all my personal data while trying to reinstall Windows. It still did not work. James immediately found the real problem to be a faulty cable on the hard drive, put the old motherboard back in, recovered my personal data and helped me get a full refund for the replacement motherboard. I wish I had called Computer Solutions Services first.

Stan -

Freehold